I swear, there's a really good dad joke somewhere in there, but I just can't seem to think of it…
In any case, hello - if you've come to this article, you're probably searching for some reliable user Coffee Meets Bagel reviews, right? Well, that's exactly what you'll find here!
In this article, we'll take a look at the dating app in question - all of its benefits, shortcomings, answer the question "is Coffee Meets Bagel free?" and everything in between. I'll tell you is Coffee Meets Bagel good, in general, and we'll also cover the pricing points of the app in question.
So, let's not waste any more time and jump right into it, shall we?
| | |
| --- | --- |
| User Count | |
| Dominating Age Group | |
| Dominating Gender | |
| LGBT-Friendly | |
| Pricing | |
TL;DR: If you were to read through some user Coffee Meets Bagel reviews online, you'd find that the dating app is one of the more popular alternatives when it comes to finding meaningful and long-lasting relationships. The app does have some shortcomings, but is overall simple to use and, judging by the aforementioned reviews, worth it.
Pros
Over 400,00 new users monthly
Messaging other users is free
Female-dominated
Multiple success stories
Mobile app-based
Cons
Strange matchmaking system (no manual matching)
Must have a Facebook account in order to register
Pricey
Coffee Meets Bagel Review: PROS
To start this Coffee Meets Bagel review off on a positive note, let's take a look at some of the numbers that the dating app boasts.
Huge User Base (Over 400,000 New Members Per Month)
At first glance, user count might seem like an arbitrary number - I mean, what difference does it actually make, right?
Well, a pretty significant one, to be completely honest.
If a dating app is popular and has a lot of users, this automatically increases the possibility of you finding someone you'd actually want to talk to and perhaps even take things a step further. Small numbers of users means that there's more competition for everybody - that's not really ideal when you're trying to find love.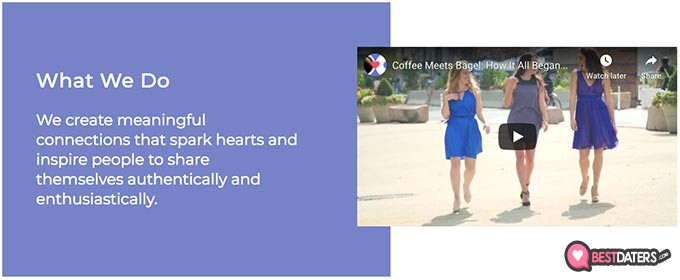 On top of that, a big user base also means that the dating site or app is doing something right. If the platform has plenty of users, you'll be able to find a lot of feedback (i.e. Coffee Meets Bagel reviews), and also get a pretty good feeling for how well the site is designed and managed, too.
Coffee Meets Bagel boasts more than 400,000 new user signups every single month - that's a huge number of potential partners coming into the app on a monthly basis!
Latest eHarmony Coupon Found:
Start for FREE
With This eHarmony Coupon
Use this eHarmony coupon & start your online dating journey for FREE. Set up an account without any cost and reach your online dating goals!
Expiration date : 29/09/2023
1,047 People Used
Only 82 Left
Target Audience - People Seeking for Meaningful Relationships
Whenever you're looking to join a dating site, it's crucial that you pay attention to whether or not the platform has a "target audience" - namely, a group of people that it caters to.
Target audiences can vary by quite a bit - race, religion, hobbies, interests, and so on. Some of the more specific sites (such as, say, Christian Mingle) limit their potential customer reach by quite a bit, yet you can be sure to find a very specific type of person there.
Now, in the traditional sense of the word, Coffee Meets Bagel doesn't really have a "target audience" - this can be seen by the fact that there's no real specific age group attributed to the site (although this might be because of other reasons). Still, reading through the majority of user Coffee Meets Bagel reviews, it would seem that most people here are looking for stable, meaningful relationships.

Indeed, you would be surprised by the number of user reviews that talk about just how "real" the people on this app are. This goes to show when you look at people's profiles, too - there's a clear emphasis on showcasing your education and career, which only adds to the "meaningful" part of the deal.
Now, look - it's no secret that a huge amount of people choose their partners primarily based on social class and ethnicity[1]. Whatever your feelings are regarding the matter, that's just the way it is. Coffee Meets Bagel simply makes the process of finding one's education and career path much easier and perhaps more centered.
All of that being said, if you're looking for a quick hook-up, user Coffee Meets Bagel reviews will tell you that this might not be the ideal app for you. Sure, there are other users who are "in it" for the same deal, but compared to those seeking some more meaningful relationships, this group is a minority.

Did you know?
Female-Dominated Dating App
Now, this isn't something that you'd see every day. On the contrary - it's a rare sight, indeed!
The vast majority of dating sites out there are male-dominated - this is something that many user Coffee Meets Bagel reviews will tell you, too. While this isn't inherently an issue in of itself, it does pose some problems if you're looking for a serious relationship.
If you're a guy, being on a male-dominated dating site means that there's a huge amount of competition to tackle. If the ratio is 2 or even 3 guys for 1 girl, you're not going to have a good time trying to find some meaningful relationships and establishing yourself as "the superior option" - there are always going to be other picks.

If, however, you're a girl looking for a guy on a male-dominated dating site, sure - it might seem like a fun concept at first. The issue here is that this often becomes quite overwhelming, which doesn't result in a fun time, in the grand scheme of things.
Now, all of that being said, yet again - user Coffee Meets Bagel reviews will tell you that this isn't really all that big of an issue with the dating app in question. With the app being female-dominated, not only does it "stand out of the crowd", but it also gets a whole lot more attention because of it.
Multiple Success Stories
One of the more common questions that you'll encounter when reading through CMB reviews is "is Coffee Meets Bagel good?". While it can refer to a whole lot of things, more often than not, this question references the actual success rates of matching with someone and then establishing a relationship with them afterwards.
Depending on your sources, the numbers are going to vary. It's safe to say, though, that CMB is quite successful when it comes to its main goal - "establishing meaningful relationships". User Coffee Meets Bagel reviews talk about the site averaging more than 25 million connections thus far - that's not bad, considering the fact that CMB has only been active since 2012!

There are many success stories that you'd find online of people meeting on the app, and that being the beginning of some long-term relationships and even marriages! It would seem that even though the app's matching system is a bit weird (we'll get to that), it does work.
A Mobile App With Some Great Profile Designs
There are two points to tackle here - Coffee Meets Bagel being an app (and only an app), and it making some great user profile design choices. Let's take it from the top, though.
Many dating sites out there (the vast majority of them, actually) have app versions available. That said, you'd be amazed at how many of these apps are, well… Tragic. For some reason, dating platform creators do not pay a lot of attention to their apps, and leave them in some laggy, non-loading states without addressing the issue or actually fixing anything.
That sucks, big time. Mostly because dating apps are becoming the way to go.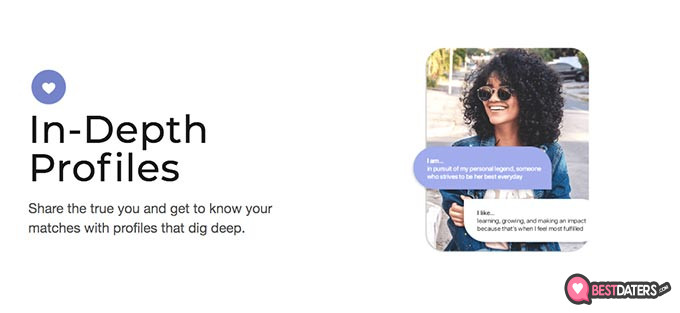 User Coffee Meets Bagel reviews will tell you that the situation is different with the platform in question. Rather, it's the complete opposite - CMB does not have a desktop version of the dating platform, in general. There's only an app available to be used.
While that may prove to be inconvenient for some, most users see this as a major pro. The reason behind this is pretty simple - the app is simply great. It works well, doesn't crash, doesn't have any performance issues and is available for both Android and Apple devices - awesome!
Now, when you get into the app itself, and set up your profile, you'll notice that the profiles themselves are designed in a very thought-out manner, too. They are very informative, provide the required information that you'd initially want to know (education, interests, and so on), and are easy to read.
Coffee Meets Bagel Review: CONS
Being as interesting of an app as it is, there are many Coffee Meets Bagel reviews floating around that do also provide some more negative answers to the question "is Coffee Meets Bagel good?". The majority of those negative reviews are centered around the fact that, if you want to use CMB, you'll have to link your Facebook account.
Only Works With Facebook
In order to create a Coffee Meets Bagel account, you're going to need to have a Facebook one, too. That's because CMB works off of Facebook - what this means is that it matches you with "friends of friends", and is completely Facebook-based as far as the entirety of the matching system goes.
The obvious issue here is simple - what if I don't have Facebook?
Well, tough luck.

The promoted benefits of a system like this are the earlier-referenced "meaningful relationships". The app itself has various different features that can correct and adjust your matches, based on your profile information and preferences - if you have an idea of who the other person is, it is believed that your initial connection will be a bit more, well… Meaningful.
Obviously, this is a big turn-off both for those people who aren't fond of connecting their Facebook accounts to the app, and those who don't have Facebook, in general.
No Manual Matches (Limited Matching Capabilities)
The matching system on the app is… Unique. Bare with me.
If you're a guy, you'll have one single day to either "like" or "pass" a girl that you match with. If a woman matches with you (her daily matches are also very limited), you two will have a week - yes, a WEEK - to build a conversation and take things to the next level. After a week, you two can no longer chat with one another.

That is so weird. On top of that, it's really easy to lose a potential match - women can only see guys who have liked them, and the Discover section of the app gets wiped clean on a daily basis, too. There are also no manual matches - you can't just "find each other". Instead, it's all based on a strict system employed by the app.
As you can probably imagine, this can get pretty tedious and confusing, real fast. I mean, sure - if things are going great with your match, you'll definitely exchange numbers or other contact details during a time period of a week. That being said, the fact that there's a lingering clock over your head, in of itself, is rather peculiar.
My Own Experience With Coffee Meets Bagel
My experience with the app in question was shortlived, yet quite pleasant.
I'll admit - I wasn't too fond of the above-discussed matchmaking system. I also didn't feel very comfortable having to involve my Facebook in the entirety of this ordeal. After the initial (and, thankfully, brief) registration process, things took a turn for a better, though.
I actually got to experience the "meaningful relationship" thing that everyone's been talking about first hand, too. I matched with a girl that we both had mutual friends with. We didn't really know each other, but did soon figure out that we had some things in common. The "mutual friend" part was a great conversation starter, too.

I liked the fact that I could message her freely - there wasn't a paywall in place between us (well, I could only do so when we actually matched, but that's a minor inconvenience). By now, I'm so fed up with dating platforms teasing you and requiring payments straight after the registration process, that this was a major relief.
The interface was modern, sleek and simple to navigate. There were tons of different features to try out, too - I'm not a big fan of that, if it's something that you'd like, it sure does gamify the entire experience.
All in all, I did enjoy myself while writing this Coffee Meets Bagel review (no, that's not an innuendo).
Price
The last question left to answer in this Coffee Meets Bagel review is simple - is Coffee Meets Bagel free?
No, it's not. But the brand's pricing model isn't all that bad, and you do get to use many of the core, essential features for free.
Coffee Meets Bagel's prices look like so:
1 month - $34,99 per month
3 months - $25,00 per month
6 months - $20,00 per month
12 months - $15,00 per month
Also, you could buy some credits, too:
100 credits - $1,99
2000 credits - $23,99
3000 credits - $24,99
These credits are called Beans on the app, and they can be used to unlock a variety of different perks and features. They are not mandatory by any stretch of the imagination, and you can surely use the dating platform without them, but they do make the overall experience a bit more varied and enjoyable.
The perks for the free and paid versions of Coffee Meets Bagel are:
Free Features
Fee-Based Features

Some free credits over specific periods of time (Beans)
Messaging other users on the app
Profile creation
etc.

Monthly supply of Beans
Get to know who read your messages
See mutual friends with your match
Various feature perks
Activity reports
Increased Bean gains (by 15%)
etc.
Overall, the app does provide some decent features for both types of versions (free and paid ones), and while it's not the most affordable dating platform out there, it's far from being the most expensive, too.
Here is The Best eHarmony Offer I Found:
Start for FREE
With This eHarmony Coupon
Use this eHarmony coupon & start your online dating journey for FREE. Set up an account without any cost and reach your online dating goals!
Expiration date : 29/09/2023
1,047 People Used
Only 82 Left
Conclusions
So, then - what's the verdict here?
To be frank, I actually liked Coffee Meets Bagel quite a bit. It provided me with a refreshing experience, and I got to meet some girls that I still hold contact with up to this day.
The mobile-exclusive dating app is very simple to use, the registration process is quick and easy, and the user profiles are informative. I'm not a big fan of the whole "Facebook connect" thing, and the matchmaking system is still a bit weird to me, but it does surely add to the overall uniqueness of the platform.
Is Coffee Meets Bagel free to use? Well, partially - you could use it for free, but if you want your experience to be as enjoyable as possible, you'll have to pay up for a monthly subscription. In general, though, I have to agree with most user Coffee Meets Bagel reviews found online - it's a great dating app alternative.
Scientific References
1. Anne Helen Petersen: 'How I Rebuilt Tinder And Discovered The Shameful Secret Of Attraction'
Leave your honest Coffee Meets Bagel review
Leave your genuine opinion & help thousands of people to choose the best dating site. All reviews, either positive or negative, are accepted as long as they're honest. We do not publish biased reviews or spam. So if you want to share your experience, opinion or give advice - the scene is yours!