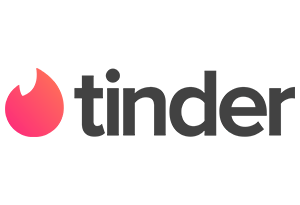 | | |
| --- | --- |
| Members | 57,000,000 worldwide |
| Paid Members | 5,900,000 |
| Matches | Over 20 billion since Tinder was launched |
| Dominating Age Group | From 18 to 24 years old |
| LGBT-Friendly | Yes |
| Countries | 190 |
| Languages | 40 |
The 2023 Pew Research Center statistics show that 30% of adults in the US have used an online dating app. The percentage increased significantly compared to 2013 when only 11% of people have used a dating app.
23% of those people who are using online dating apps are going on dates and 12% of them manage to find serious relationships. Thus, dating sites and apps can be really successful, depending on what you're looking for, of course.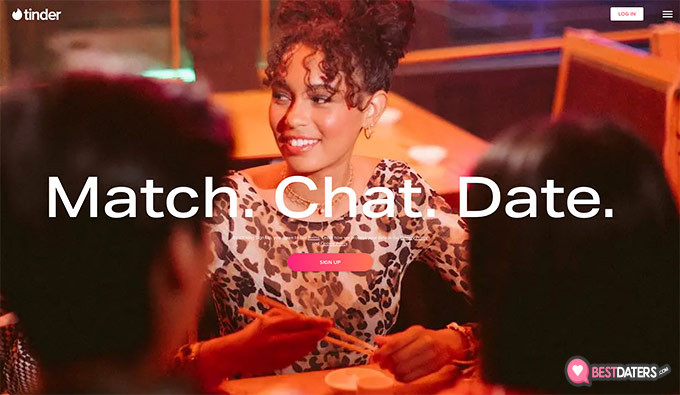 Talking about Tinder, this app is known more for finding random hook-ups than serious relationships. However, it's not a secret that many people managed to find a significant other using this site as well. It's fair to say that it all depends on what you're looking for.
In this Tinder review, I'll take a look at the major advantages and disadvantages, pricing, usability, and other important aspects. I'll answer multiple questions related to this dating app, such as "is Tinder worth it?", "is Tinder safe?", and many more.
Overview
Tinder is used by more than 50 million people worldwide. It provides you with an effortless swipe feature that allows you to make connections instantly. You can swipe left if you don't like what you see or swipe right and make a match. The majority of members on Tinder are from 18 to 24 years old, however, it doesn't mean that you won't find older people, you definitely will.
Tinder accepts members of LGBTQ+. What is more, it's very flexible. While many members on Tinder are not looking for anything serious, some people still find a significant other using this dating app.
Pros
Make connections easily
Amazing features
Members of LGBTQ+ are free to join
Cons
Lacks profile customization
Matches based on looks
Tinder Reviews: A Brief History
Tinder was launched in 2012. It was founded within startup incubator Hatch Labs. A year later, in May 2013, Tinder was already one of the top 25 social networking apps online.
According to The New York Times, people were swiping about 1 million times per day in 2014. Needless to say, even though Tinder was in the market for only two years then, it managed to instantly gain popularity.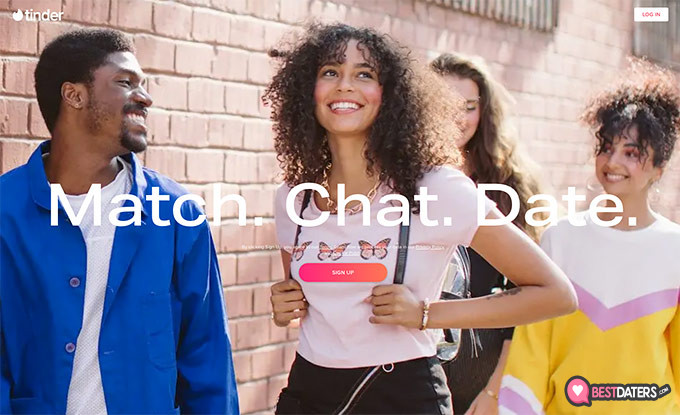 Tinder launched a web-optimized version only in 2017. Until then it was only available on mobile devices. However, at first, it was very limited and available only in some countries. It didn't even have some of the features that we get today.
In February 2023, Tinder ranked 123 (fourth among lifestyle apps) in the Google Play Store, however, it suddenly dropped in March to 179th place. Tinder still remains highly popular among people of different age groups, mostly from 18 to 24 years old.
People often think of Tinder as an app that helps to find one-night stands, however, that's not always the case as people also find serious relationships using this app, even though it's not that often.
Tinder Reviews: PROS
I would like to begin with the positive aspects of Tinder reviews. Let's start with the signup.
Quick Sign Up
You can register to Tinder super quick using Facebook, email address or phone number. To complete the registration, you'll need to verify your email address or phone number, depending on which registration method you choose.
After that, you'll need to provide only general information about yourself, your name, date of birth, gender, and upload a profile picture. Then you should allow Tinder to access your location and that's it. It should take you about 5minutes and you're ready to make new connections.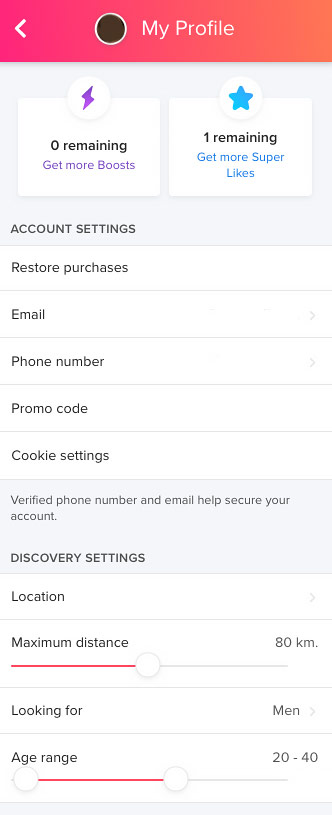 I really appreciate how easy the registration process is, however, there's also an issue when it comes to it - it's easy to create fake profiles. If you're not sure how to separate fake profiles from the real ones, I have advice that might help.
Fake users often provide only one picture, whereas real ones tend to upload 4 or 5. Also, they usually don't have a description. Fake profiles are the reason why so many people ask is Tinder safe. Thus, you have to be extra careful.
For this reason, when creating a profile, you should make sure to provide a variety of pictures of yourself that would be taken in different environments. Also, don't hide your face wearing sunglasses, even if many people do so. Eyes can say so much more than you think and attract people that you might be interested in. Tinder reviews would completely agree with that.
Even though many other dating sites offer only very basic features to free memberships, Tinder is different. There's no need to pay, you can swipe, connect to people and chat for free. Of course, if you want to get additional features then you should choose either Tinder Plus or Gold plans. I'll discuss paid plans more at the end of Tinder reviews.
Latest Tinder Coupon Found:
FREE Tinder App
With Unlocked Features
Get FREE basic Tinder App access via the link on this coupon. Save on good quality dating & achieve your dating goals faster!
Expiration date : 29/09/2023
1,638 People Used
Only 37 Left
Easy to Make a Contact
The majority of Tinder reviews appreciate how easy it is to find a match using this app. I completely agree with them, I don't think that there's an easier way to do so. All you have to do is swipe left if you're not liking what you see or swipe right and possibly have a match (if that person swipes right as well).
While some people are afraid of not finding the right match, there's no need. Tinder is very flexible, people of different age groups are using it. What is more, it's LGBTQ+ friendly that's not something you can say about many other dating apps.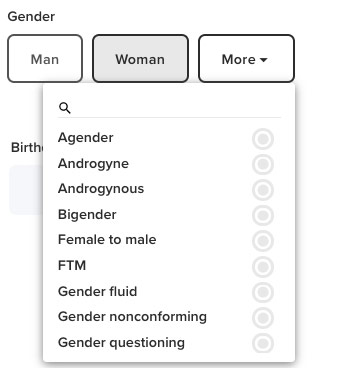 After matching with someone you can send unlimited messages, however, if a person hasn't liked you back, you won't be able to contact them. If it happens so that you matched with someone who gives you strange vibes, do not hesitate and block that match or simply press 'unmatch'. There are no risks.
However, you should know that if you accidentally send a message and want to delete it, there's no way to do so. You'll need to erase the entire conversation. That's one of the aspects that Tinder reviews are not so happy about.

Did you know?
Special Features
One of the major aspects that many Tinder reviews, including myself, find so enjoyable are the special features that come together with this app. Even though some of them are only available for paid members, I would still like to introduce you to all the possibilities.
Here's the list of features that Tinder is offering:
Geolocation. It's crucial to the app. You will find members based on your location.
Filtering members. To find the best matches, you can filter members by their age, gender, and distance.
Swipe. It's the essential Tinder feature. You can swipe left if you don't like what you're seeing or swipe right and possibly make a connection.
Match. If you swipe right and that person swipes right, it's a match! You can only chat with people if you matched.
Super Like. If you want to super like someone, you need to swipe up. Free members can super like only once per day, however, if you choose a plan, this number either increases or becomes unlimited. You'll see if a person super liked you by a blue star on their profile.
Push Notifications. If you get a super like, match or a message, Tinder instantly notifies you about it.
Boost. This is the paid feature, however, an amazing one. If you boost your profile, you will be at the top in your geographical region for 30 minutes. If you have any of the paid plans, you get 1 boost per month.
Rewind. If you have accidentally swiped left, even if you liked a person, you can rewind and swipe right.
Passport. This feature allows you to swipe all over the world. All you need is to choose the location you want and look for new matches. This feature is paid.
Top Picks. Tinder helps you to find matches based on your criteria. These matches appear as your top picks.
Personal Security. This feature was created to protect LGBTQ+ users. In some countries, LGBTQ+ members are penalized, so this feature will notify you whenever you're in such a place.
Tider U. This feature allows university students to find matches by prioritizing their profiles.
There are even more features that Tinder provides you with, however, these were the essential ones. After hearing about all these features, you shouldn't be asking is Tinder worth it anymore.
Attractive and Easy-to-Use App
Tinder provides you with a very easy-to-use app that's evaluated 3.7 out of 5 on the Google Play Store. While the score is not the best, no one could deny that the app is very attractive and clear.
You may not be aware of some icons that are used, however, once you understand what they're for, you'll see that there's no confusion. You'll see icons such as Boost, Rewind, or Super Like.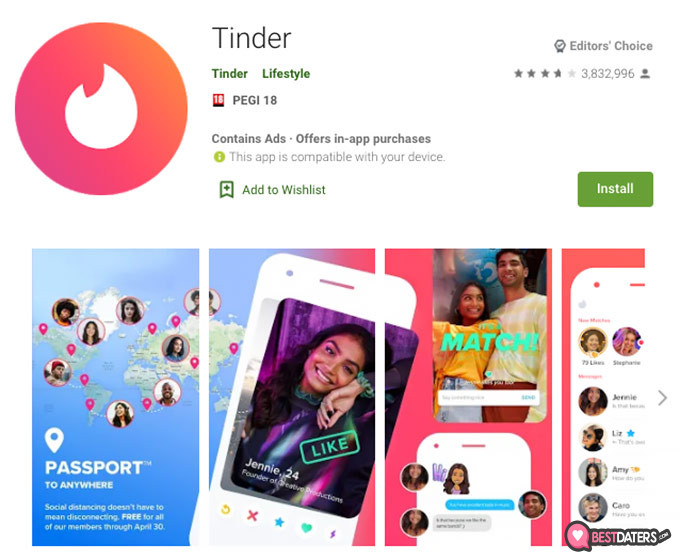 I especially like the swipe feature, it can actually be slightly addictive, not in a bad way. It seems that many Tinder reviews agree with me. The Tinder app is available on Google Play Store, Apple Store and Blackberry, completely charge-free.
If you want to share more information about yourself, you can connect your account to Spotify, Snapchat, or Instagram. It might also increase the number of matches.
Tinder Reviews: CONS
Now that we're done with the positive aspects, it's time to move on to the less pleasant part and discuss the flaws that I and many other Tinder reviews have distinguished.
Minimal Profile Customization
When it comes to Tinder profile customization, it's quite limited compared to other dating sites. You can provide your age, profession, short description, gender preference, add pictures and rearrange them as you like. Also, you can add your favorite song with Spotify and connect your Instagram.
If you want to get more matches, it's recommended to provide more information about yourself. By saying more I mean that you should fill in all the information that Tinder allows you to.
The reason why there's very limited profile customization is that this swiping app is all about the looks, or at least it seems to be like it. Members tend to swipe left or right without reading more about a person and simply judging from pictures, which makes this app really shallow.
That's one of the main reasons why people say that this app is just for hooking up and not finding deep connections. However, once again, it's not a rule and cannot be applicable to everyone.
Not All Members are Looking for the Same
There are many dating sites, such as eHarmony or Elite Singles that are created especially for people who are ready to settle down and are looking for serious relationships. That's why you can be sure that everyone has the same intentions.
When it comes to Tinder, the situation is different. Each person is here for different reasons. Some are bored and just want to chat, others are looking for random hookups, and there are also those who are hoping to find something more serious. However, that's the problem, not all members are sincere and you cannot know their intentions.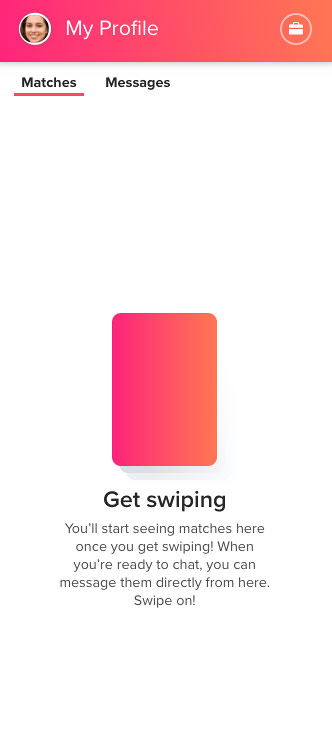 One thing that can be clear judging from Tinder reviews is that women use it to find relationships more often than men, which, in most cases, are interested in one-night stands. Therefore, there's so much confusion and you might end up getting ghosted.
Therefore, when it comes to the questions "is Tinder worth it?" or "is Tinder Plus worth it?", it completely depends on what you're looking for. Not all members are using this app for the same reasons.
To help you make a decision, let's move further and take a look at the Tinder pricing.
Tinder Pricing
I already mentioned previously in this Tinder review that you can use this app for free and get all the essential features that you need to make connections. However, if you want to have an even better experience using Tinder, you might want to consider paid plans that come with additional features.
Here's more detailed information about all the free and fee-based features.
Free
Paid

Download the App
Register
Unlimited swipes to the left
Find members nearby
Upload a profile picture
One Super Like every day

Unlimited swipes to the right
Unlimited likes
See who likes you
Find other members
Rewind
No ads
One boost per month
Get access to the top picks
Tinder pricing and features depend on the plan you're choosing. I haven't seen any Tinder reviews that would say these plans are too expensive. Take a look at all the details below.
What is Tinder Plus Pricing?
First, take a look at the Tinder Plus pricing:
You're probably wondering is Tinder Plus worth it? Considering the price, which is really inexpensive, I really think that it's worth getting this plan. After all, you get all these features. You'll find more detailed information in the picture below.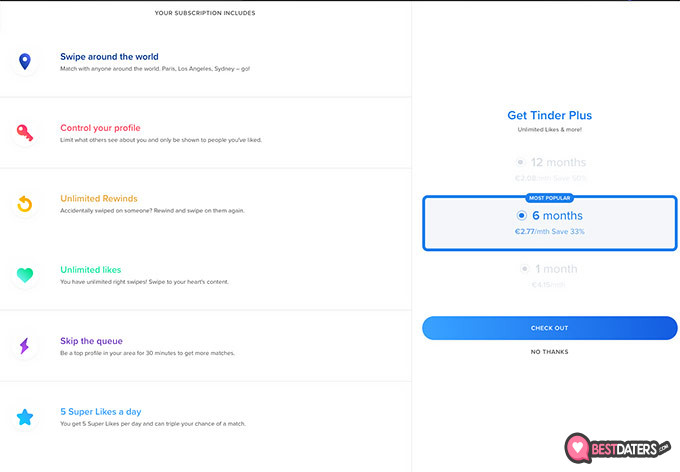 What is Tinder Gold Pricing?
Here's the Tinder Gold pricing:
As you can see, the Tinder Gold plan is slightly more expensive than the Plus one, however, it provides you with unlimited features that will make your experience using this app even more enjoyable. You already know is Tinder Plus worth it, however, what about the Gold plan? Well, it's also really inexpensive and you get even better features. So, I believe that it's completely worth it.
Take a look at all the features that you get in the picture below.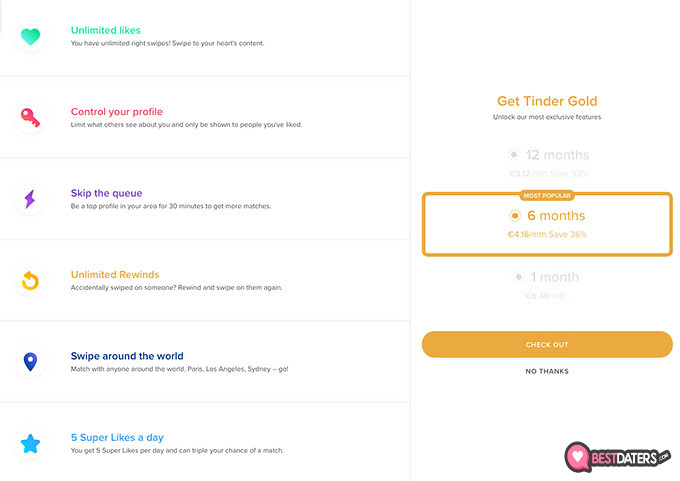 Success Rate
Even though Tinder provides all these amazing features, which makes it really fun to use. However, what actually matters is a success rate.
According to the research that was performed by the Queen Mary University of London, heterosexual men are not that picky compared to heterosexual women, that's why their success rate is much lower, about 0.6%.
When it comes to women, they're pickier and swipe right less often than men, meaning that their success rate is much higher, about 10%.
However, each of us is so different and that's why our success rate will never be the same. It all depends on our personal preferences and how we present ourselves to others.
Here is The Best Tinder Offer I Found:
FREE Tinder App
With Unlocked Features
Get FREE basic Tinder App access via the link on this coupon. Save on good quality dating & achieve your dating goals faster!
Expiration date : 29/09/2023
1,638 People Used
Only 37 Left
Conclusions
Therefore, while Tinder is used by more than 50 million people worldwide and mostly attracts people from 18 to 24 years old, it's not really created to make serious relationships.
When using Tinder you swipe left to reject or swipe right to make a connection. There's quite minimal information that you can provide about yourself, so you can expect people to judge you based on the looks, which makes Tinder really shallow.
That's the reason why many Tinder reviews think of it as an app that helps to find one-night stands rather than serious friendships. Of course, that doesn't apply to everyone.
If you want the whole Tinder experience, you should forget about the web-optimized version and simply download the app that's free of charge and so much better! You'll love all the features that Tinder comes with.
Leave your honest Tinder review
Leave your genuine opinion & help thousands of people to choose the best dating site. All reviews, either positive or negative, are accepted as long as they're honest. We do not publish biased reviews or spam. So if you want to share your experience, opinion or give advice - the scene is yours!