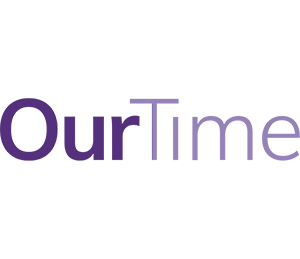 If you're slowly approaching the latter part of your life, dating can seem like an unsolvable puzzle. You might think that you simply "haven't got the game anymore", or that your "charm has run out". Have no fear - with the help of some user OurTime reviews, you might just be able to find the perfect dating site for yourself.
You might say - OurTime reviews? What in the world is OurTime, and why should Ibe interested when there's Tinder and Bumble?
Well, that's pretty simple - OurTime is a platform that is exclusive to middle-aged citizens, namely - those over 50 years old. Here, everyone's in this age range - it makes it much easier for people to find one another, and to make contact.
I'm getting ahead of myself, though - let's take it from the top.
| | |
| --- | --- |
| User Count | + 8 million visits per month |
| Dominating Age Group | |
| Dominating Gender | |
| LGBT-Friendly | |
| Pricing | |
TL;DR: OurTime user reviews are a bit too far in between, and it's no wonder - it's somewhat of a niche platform. Still, there seem to be many people using it, and the ones who do use it report that the profiles are quite informative, you can do a lot of things for free, and even the pricing is decent, too.
Pros
A pretty big user base
For people over 50 years of age
Female-dominated
Detailed profiles
Very easy to navigate
Good mobile app
Cons
Messaging is paid
A lot of bots
OurTime Reviews: PROS
So - the pros of OurTime. Truth be told, reading through all of the existing user OurTime reviews, I've actually noticed that, in general, the platform is quite likable - in my own testing, I actually had some hilarious encounters. But more on that later - first, let's discuss the actual target audience of OurTime.
Target Audience - Senior Citizens (Above 50 Years of Age), Serious Relationships
While it may seem pretty self-explanatory, it would be faulty to talk about the dating platform in question without addressing the elephant in the room, now wouldn't it?
OurTime is almost exclusively dedicated to senior people - well, I guess it depends on what it is that you consider "senior". To put it simply, the vast majority of user OurTime reviews consist of people in their 50s and 60s talking about finding friends and establishing serious relationships on the platform.
Now, it's worth pointing out just how awesome it is that there's a dedicated online dating platform for older people. Sure, anyone in their 50s can go ahead and create a Tinder profile, but it's going to be much more difficult to find a match there! With OurTime, you'll be able to rest assured that the vast majority of users on the site are in your age and life experience range.

On top of that, there's also the "serious relationship and friendship" thing. The vast majority of the OurTime dating site reviews you'll likely come across online are going to tell you that people are searching either for some meaningful friendships here, or even a long-term relationship. To put it simply, no one's coming to OurTime to "play around" - if you register, you're serious about it.
That's actually awesome! I'll tell you about y own experience with the platform a bit later on in the article, but I've noticed that there are many people here that are either simply lonely, who've never been married or are widowed. I'll admit, I have a soft spot for these things - it's really cool to see that there's a place where these people can find each other.
Latest OurTime Coupon Found:
Access FREE Version
Of OurTime Dating Site
Act now & unlock the FREE OurTime version. Get a lot of useful features & find yourself a significant other in no time!
Expiration date : 01/12/2023
1,937 People Used
Only 48 Left
A Popular Senior Dating Platform
Remember when, at the very beginning of this review, I pointed out that many older people who read through OurTime reviews think that they've "lost their game" when it came to dating or making new friends? Well, the numbers on OurTime aim to prove that wrong, even though a third of online dating app users still don't go on dates with people they've matched with[1]!
In the grand scheme of things, sure - the site might not be the most popular dating platform on the market, far from it! That being said, this is what happens with niche, specific audience-oriented platforms - it's only natural. Still, the numbers that the site boasts are nothing to scoff at.
Every single month, there are more than 8 million visits to the site in question. The absolute majority of these visits are in the US - when I was registering on OurTime, I've noticed that the only other option is Canada, so that's something to keep in mind.
For a niche dating site, 8 million monthly visits is a pretty good number to boast about! It means that the site is going to be quite active, and that you shouldn't worry about "not being able to find a match" - many user OurTime reviews second that notion.

Did you know?
Three Companies in One
The vast majority of dating sites are pretty simple and straightforward - you register on the platform, and your information (account, profile) is thrown into a huge database together with some other users that are present there. Depending on a vast number of different criteria, matches are then being made (either by you, or the algorithm, or both).
Some user OurTime reviews will tell you that the situation with this platform is a bit different.
OurTime belongs to OurTime Community of People Media - a coalition that also houses SeniorsMeet and SeniorPeopleMeet. Just like OurTime, these two are senior people dating sites.
Thing is, once you register on either one of those three platforms, your matches are then found throughout all of them. That's a huge user base to pick from! It's a great feature in that you have some strongly increased chances of meeting someone that you'd potentially like.
Very Simple to Use
Dating platform simplicity is important, no matter who you are. This is true for both younger people on Tinder or Christian Mingle, but is especially crucial for senior citizens.
Why? Simple - many older people aren't too fond of modern technology, and can have difficulties interacting with complex online platforms.
Older people also have a much more difficult time trying to learn how to deal with modern technology, too - while jumping through different websites and using two PC monitors might seem like nothing for a younger person, it can be quite the challenge for an older individual. Sure, there are many tech-savvy older folk, too - it's always a case-by-case scenario.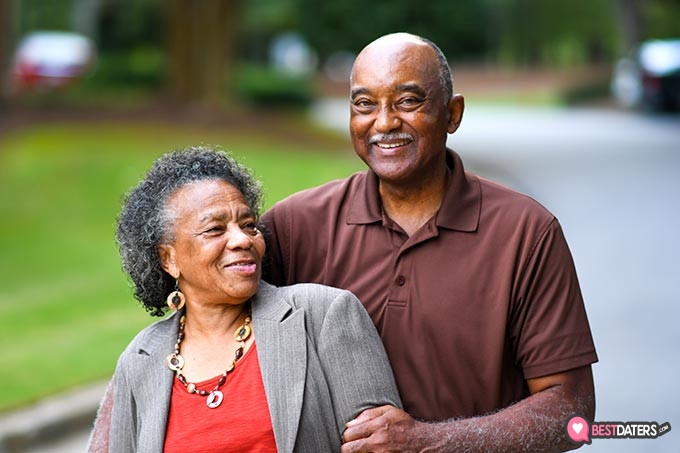 That being said, no matter which group it is that you fall into, you're in luck - there are many user OurTime reviews that talk about just how simple and straightforward the platform is.
Surely, this is done on purpose - it's a good example of when a brand knows and cares about its customers. The website design itself is made so that it somewhat resembles those old-school websites from the mid-2000s. Make no mistake, though - this does not mean that the website is "outdated". On the contrary - while it may be a problem that many dating platforms these days have, OurTime is very functional and responsive.
This does also translate into the mobile app version of the site, too.
Well-Designed Mobile App
You know, I'll be honest with you - mobile versions of dating platforms are my pet peeve. Before reading through other user OurTime reviews, when I saw that the company in question does have a mobile version of the site, I took a deep breath - you wouldn't believe how many times I've been disappointed by mobile dating apps before.
And then I tried it out. And now I believe other user OurTime dating site reviews.

All jokes aside, I was very pleasantly surprised by the app in question. Mostly because OurTime seems to have managed to not only create a functional and well-designed app, but also keep things very simple and straightforward. Yet again, this just shows their attention to the target audience.
As noted earlier, my surprise stems mostly from the fact that many dating site-oriented companies seem to have completely abandoned the idea of creating a well-made, functional app version of their sites. It's actually astonishing how top-tier online dating industry leaders just simply don't care!
Again - not an issue with OurTime.
OurTime Reviews: CONS
So - OurTime is a great online dating site for senior people, and most of the OurTime reviews you'd come across online are rather positive towards it. We've frankly established that much already.
In order to remain transparent, let's talk about some of the more common OurTime complaints. There aren't many worth emphasizing, but you should still note a couple of things before deciding to register.
Messaging Other Users is a Paid Feature
Ya, you know what - I said that bad mobile dating apps are my pet peeve, but this is something that's also up there, to put it lightly.
Messaging is the core, essential feature of any dating site out there - it's literally the cornerstone of such platforms! If you can't message other users, what's the point of using a dating site, in the first place?
Some companies know this, and do things right - they allow you to message other users, and put some other, not-as-essential features under a paywall. Not OurTime, though - if you want to send and receive messages on this platform, you'll have to pay up.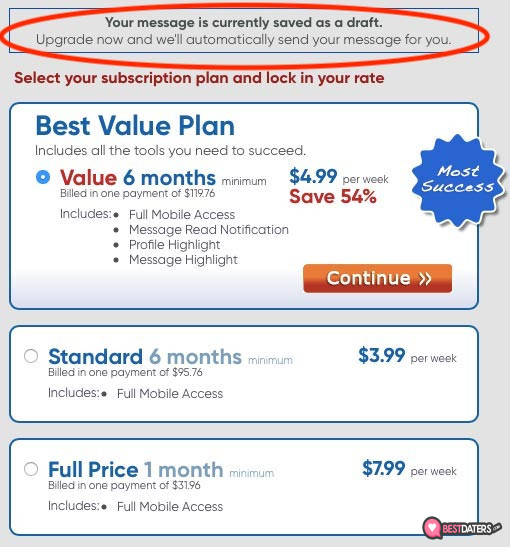 Perhaps I wouldn't be as pissed as I am if there were clear indications straight fro the get-go. I mean, a paywall pop-up only showed up after I registered, found a woman I'd like to chat with and tried writing her a message.
I'm aware that this is, more or less, common practice in the industry, but it's still something that really grinds my gears.
Many Fake User Profiles
Whenever you're using the internet, there are always possibilities that you'll run into what are known as "bots". In this context, bots are some malicious software that are there to - basically - scam your money out of your pocket.
Bots are usually very intelligent pieces of software - without knowing any better, you might think that you are actually communicating with another person. That's what makes them so dangerous, too.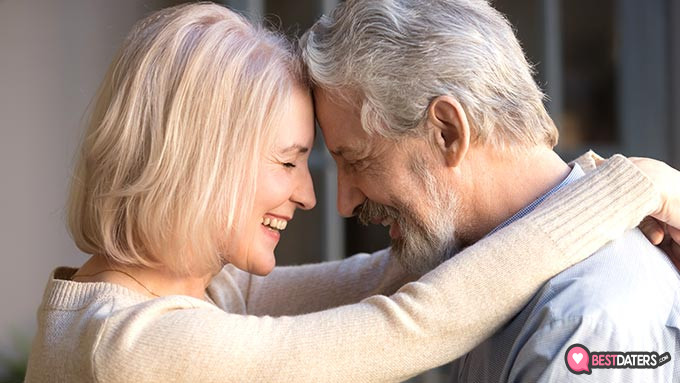 One of the most common OurTime complaints that I've come across online talks about this very issue - bots being a common sight on the platform. From the looks of things, they aren't all that malicious, since they seem to be mostly quite simple and easy to spot, but that still doesn't eliminate the issue, now does it?
Almost all dating sites out there face this problem - while many user OurTime reviews won't tell you this, it's actually a very common issue. That said, most of these platforms have means of dealing with bots, for example - strong profile verification systems. Unfortunately, this is something that OurTime lacks.
My Own Experience With OurTime
As I've mentioned earlier on in the OurTime dating site review, my personal experience with the platform was rather comical.
Why? Well, mostly because I'm not 50 years old. Far from it, actually.
Needless to say, I didn't go there expecting to find a partner that I'd spend the rest of my life with. Instead, I tried concentrating on the latter part of the deal - friendships. Admittedly, that's exactly what I found.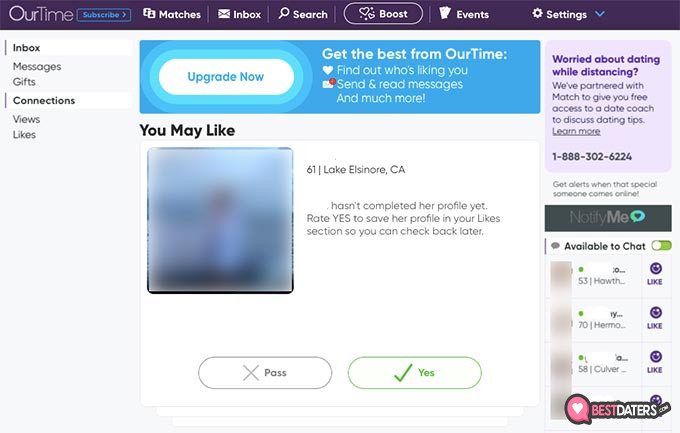 I've spoken with 4 women on the site, in total. Without hesitation, all of them called out me looking "a bit younger than a senior citizen". Thankfully, we had some nice laughs, and the women were very sweet and kind. I've actually learned a lot about life in California (that's where all 4 women were from), about their life stories, and how they've ended up in OurTime. Just like me, they were all looking for a lasting friendship.
I've hinted at this earlier, but let me emphasize it again - the usability aspect of the site is great. It's super-simple, super-clear and very easy to navigate. Ya, the paywall pop-up did piss me off a bit, but as you'll see in a minute, the prices are actually pretty reasonable.
Overall, I enjoyed my time on OurTime (hehe).
Price
Finally, let's talk about the pricing options of OurTime.
Again, the site does have both free and paid version for you to use. That being said, with messaging being a paid feature, the free version of the platform is more of an introduction, and a good way for you to "get a feel" for the site, and figure out if it suits you.
OurTime's prices are:
Full Price (1 month minimum) - $7,99 per week
Standard (6 months minimum) - $3,99 per week
Best Value (6 months minimum) - $4,99 per week
Converting the prices into monthly payments, they are pretty decent, when compared to some other dating site prices out there. The features that you'd receive with the free and paid plans are:
Free Features
Fee-Based Features

Creating a profile
Liking or passing other people's profiles
Reading through other user's profiles
Matching
Creating message drafts

Messaging other users / receiving messages
Mobile access
Know when (if) others have read your messages
Profile highlights
Message highlights
All in all, the messaging could definitely be a free feature, but other than that, user OurTime reviews note that the site has a rather fair pricing model.
Here is The Best OurTime Offer I Found:
Access FREE Version
Of OurTime Dating Site
Act now & unlock the FREE OurTime version. Get a lot of useful features & find yourself a significant other in no time!
Expiration date : 01/12/2023
1,937 People Used
Only 48 Left
Conclusions
To sum up the OurTime review, I'd like to say - OurTime is one of the more decent dating sites for senior citizens out there.
The platform's exclusivity allows people to have an easier time finding one another, and developing some strong bonds and lasting relationships. Most user OurTime reviews and OurTime complaints that exist talk mainly about the fake account and paid messaging issues - while they are significant on their own, they also aren't really game-breakers.
In short, if you're over 50, are located in the US or Canada and are looking for a decent dating site, OurTime might be a great platform to try out.
Scientific References
1. Emily A. Vogels: '10 facts about Americans and online dating'
Leave your honest OurTime review
Leave your genuine opinion & help thousands of people to choose the best dating site. All reviews, either positive or negative, are accepted as long as they're honest. We do not publish biased reviews or spam. So if you want to share your experience, opinion or give advice - the scene is yours!