| | |
| --- | --- |
| Members | 29,000,000 USA / 66,000,000 worldwide |
| Gender Proportion | 51% of men VS 49% of women |
| Dominating Age Group | 25-34 years old |
| Validated Members | The majority |
| Messages Sent Weekly | 2,300,000 |
| Countries | More than 200 |
| Pricing | From $17,97/month |
There are two main reasons why people decide to go for dating sites - random hookups or serious relationships. The majority of online dating sites and apps are created to help you make connections, no matter if they're genuine or just a one-time thing.
It's known that 40% of Americans are online dating. While some think that it's an unnatural way to meet someone, it's completely normal nowadays, people of different age groups take advantage of this possibility and enjoy successful relationships.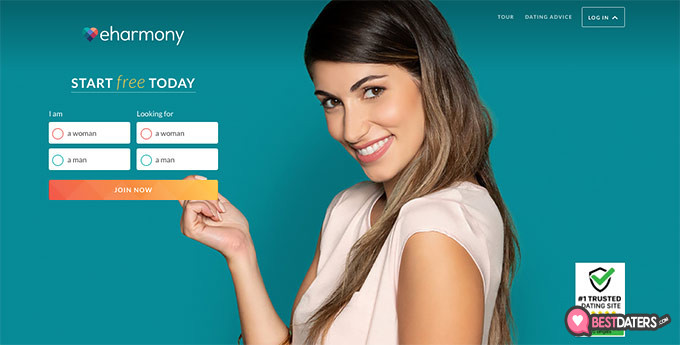 When it comes to dating sites, you should choose one depending on what you're looking for. While some sites are created to meet people, no matter if it's for random hookups or serious relationships, other dating sites position themselves as one of the two.
eHarmony is created for those who don't want to waste time and meet people who are interested in more than one-night stands. This dating site is especially for those who are ready to settle down and want a happy marriage.
In this eHarmony review, I'll introduce you to the platform, including the major pros and cons, explain how it works, provide you with success stories, some insights based on eHarmony reviews, and the answer to the question "is eHarmony free?". Without further ado, let's move to eHarmony reviews.
---
Overview
eHarmony is a dating site that was launched in 2000 for people who are ready to settle down and establish serious relationships. The site has more than 29 million members from the United States and the majority of them are from 25 to 34 years old. However, a high percentage of people fall into different age groups as well.
eHarmony is utilizing the compatibility matching system that allows people to get the most precise matches and easily find members with a similar mindset. More than 60,000 couples have already got married using eHarmony, this number shows how successful this dating site is.
Pros
More than 29 million members from the United States
All members are looking for serious relationships
Compatibility matching system
Inexpensive
Cons
App has some glitches
Lacks more extensive features
eHarmony Reviews: A Brief History
Before explaining to you how eHarmony works, I would like to introduce you to the brief history of the company.
eHarmony was launched back in 2000 in California, it's owned by a German mass media company called ProSiebenSat.1 Media, which operates pay television channels, free-to-air commercial TV channels, radio stations, and other related print businesses.
The company was founded by Neil Clark Warren, who is a clinical psychologist, and his son in law. At first, they started a seminar company, however, later it became a dating website that you now know as eHarmony.
From 2000 to 2010 about 33,000,000 members have already used eHarmony. As of 2008, about 15,000 people were taking questionnaires, which help to get better matches, every day. According to Harris Interactive, in 2010 an average of 542 eHarmony members from the US marry every day.

In 2023, eHarmony has over 66 million members in more than 200 countries worldwide. The number of subscribers reaches 75,000. Needless to say, the numbers speak for themselves.
Thus, when it comes to the question is eHarmony worth it, it's already clear that this dating site is very effective at finding a person that you're compatible with. The site has a really good reputation, however, to find out more, let's discuss more details on this eHarmony review.
eHarmony Reviews: PROS
Let's begin with the best aspects of eHarmony reviews.
Signing Up + Compatibility Quiz
As I was registering for eHarmony, I've noticed that it takes longer compared to many other dating sites. While some eHarmony reviews see it as an issue, it's actually far from it. eHarmony wants to collect as much information as they can about your personality and preferences to provide you with the best matches.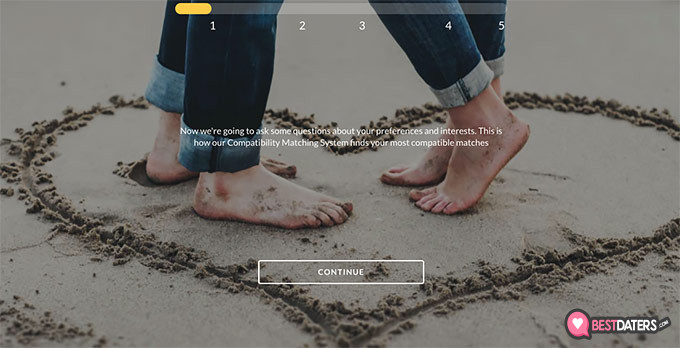 Now, once you're signing up, you can choose two options - to use your email address or connect your Facebook account. After doing so, you will be taken to the compatibility quiz. It will take you about 15-20 minutes to complete it. It's a must to answer honestly to find the best matches.
The quiz consists of 5 parts, each of them is slightly different. Some of the parts are related to visual images, you have to select the ones that you find more attractive. Other parts include questions that are related to your personality and what you're expecting from your significant other.
You will come across questions such as: "Why do you think you're single?", "Which statement best represents your ideal wedding?", and so on.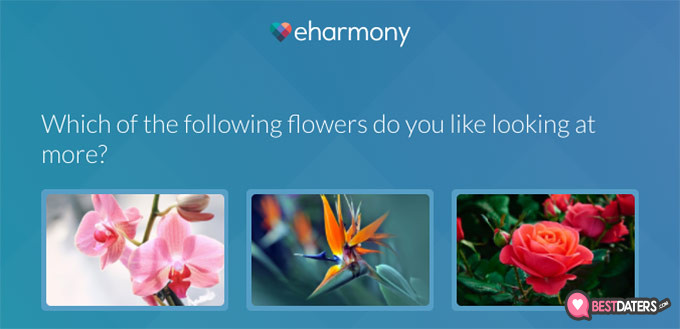 In addition to the quiz, you can also provide further information about yourself, including your nationality, age, body type, religion, and so many more. eHarmony reviews claim that by providing this information you'll be able to find better matches. That's all the needed information to start making new connections.
After I created my profile, I instantly saw the new matches that eHarmony selected for me based on my quiz answers. I have to say that I was pretty surprised by the accuracy, many people seemed to be exactly what I'm looking for.
Latest eHarmony Coupon Found:
Start for FREE
With This eHarmony Coupon
Use this eHarmony coupon & start your online dating journey for FREE. Set up an account without any cost and reach your online dating goals!
Expiration date : 29/09/2023
1,047 People Used
Only 82 Left
Great Profile Customization
One of the major aspects that matter when choosing a dating site is the profile customization. The more information you can provide about yourself, the more people with a similar mindset you will attract.
eHarmony reviews have nothing bad to say about this dating site when it comes to the profile customization. eHarmony allows you to provide not only basic information, such as your age, height, languages, university degree, etc. but also additional facts that can attract more people.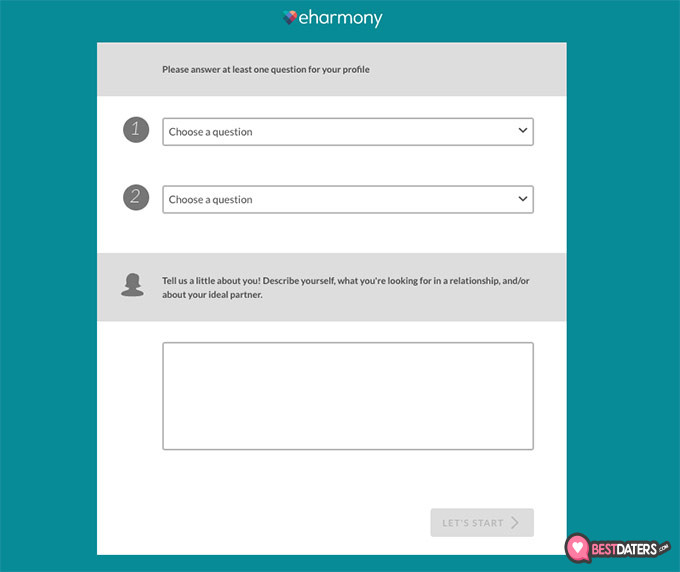 You get free space where you can write anything you want about yourself, select from a long list of hobbies, provide your personal quote, and add more information about who you are, for example, the best life skills, what you can't live without, etc.
Thus, eHarmony allows you to show off your best personal qualities and traits.

Did you know?
Easy to Find People of Similar Mindset
eHarmony makes it super easy to find people with a similar mindset. That's not only due to the fact that you take a detailed quiz that connects you with people that answer the questions similarly but also because it has a very diverse structure of members, it's LGBT-friendly and is created for people who are tired of games and are ready to settle down. Hence, everyone's here for the same reason.
Even though the majority of people are from 25 to 34 years old, due to the fact that eHarmony has so many members, you'll be able to find people from various age groups. A huge part of members falls into categories of 35-44 and 45-54 years old. Gender distribution is quite even as well.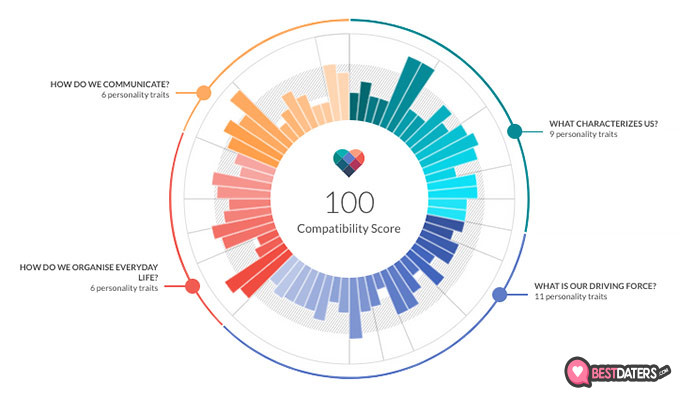 Apart from this, you can search and match with members that are aside from your match preferences by simply slightly changing them. Thus, eHarmony does everything they can to help you find people that you fancy. eHarmony reviews show that this platform really works. So, if you're wondering is eHarmony worth it, you should no longer question it.
eHarmony Reviews: CONS
Now that we're done with the positive aspects, it's time to move to the less pleasant part and discuss the cons that many eHarmony reviews distinguish.
6-Month Commitment
After you register and perform a quiz, you'll see that not all eHarmony features are free, meaning that you'll need a plan. However, as you move to price, you'll notice that the minimum subscription is 6 months.
The thing is that it's always best to try out a dating site first and only then make a long-term commitment, however, eHarmony doesn't allow you to do so… Therefore, you might want to consider it. After all, chances are that you'll meet someone in less than 6 months.
Might Lack Some Features
While eHarmony is a really good and reliable dating site or at least it seems to be so judging from eHarmony reviews, it's very simple and doesn't have any exceptional features. I know that many of you will find it more than enough, however, it's still something that's worth to be mentioned.
Let me introduce you to eHarmony features that are available at the moment:
Icebreaker. It allows you to find similarities with a person that you want to start a conversation with. It works by providing you with pictures that you need to choose from.
Send a smile. If you're not sure how to start a conversation, then it's always a good idea to send a smile and let someone know that you're interested.
Add to favorites. If you don't want to miss out on any profiles, you can simply add them to your favorites list.
What if? Since eHarmony provides you with matches based on your personal information, you might be missing out on something. This feature provides you with matches that are outside your preferences list.
Send questions. It can be difficult to start a conversation. That's why eHarmony provides you with automated questions that might help.
The good part is that there's a new video date feature, however, it's still in a beta version. I believe that as soon as it will begin to function normally, it will be an amazing upgrade to the platform.
App Has Some Glitches
eHarmony has a very clear and easy-to-use app that's available on both iOS and Android. These are the only aspects that are great about it.
On Google Play Store, this app is evaluated only 2.6 out of 5. People have issues with subscriptions, the number of matches, and notifications. Others say that it's very limited.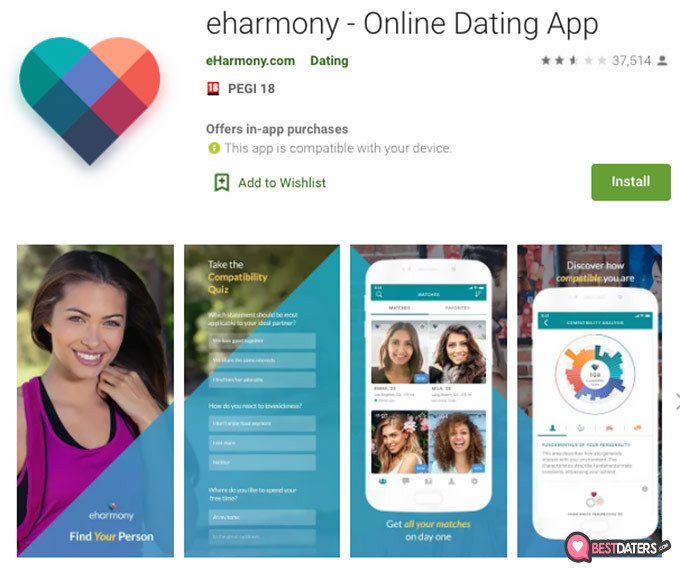 The thing is that if you want to get more features, you need to get a plan. Otherwise, your experience is very restrictive. Maybe not everyone understands that.
eHarmony Price and Additional Details
Is eHarmony free? That's one of the most common questions that I was also eager to find out. Let me give you a quick answer. You can sign up, take a quiz, send an icebreaker & smiles as well as customize your profile for free on eHarmony. However, if you want to send messages, view pictures of other members, and so on, you'll need a subscription.

Here's the table for all the free and paid features that you get:
Free Features
Fee-Based Features

Sign up and create a profile
Send an icebreaker & smile
Add people to My Favorites list
Search for matches outside your preference list
View a member's profile (no pictures)

See who visited your profile
View pictures
See who added you to their Favorites List
Matches outside your preferences
Messaging
Anonymous browsing
Thus, if you're asking is eHarmony free, I'd say that if you want to take advantage of all the matchmaking possibilities, then you'll definitely need a paid plan. So, no, it's not free.
On the same note, let me present to you eHarmony prices: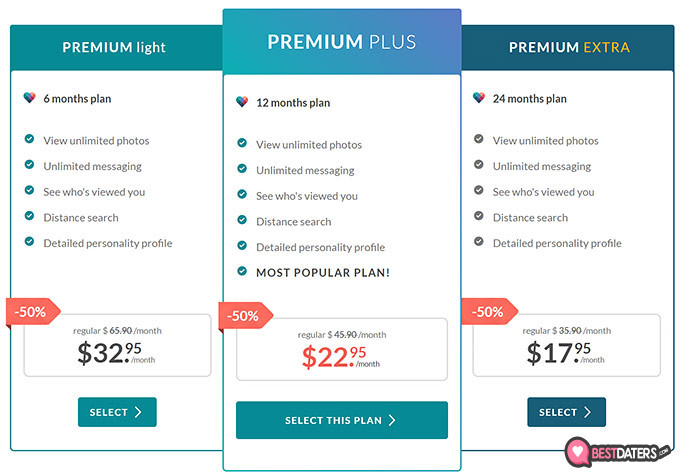 You can pay using Credit Card or PayPal and choose from three different payment options: single-payment, two-payment and three-payment.
eHarmony prices compared to other sites are average, considering all the perks that you get, it is completely worth it. However, the problem is that you cannot get a 1-month subscription just to see how it works. The minimum subscription period is 6 months, which is a lot…
eHarmony Reviews: Success Stories
When it comes to different dating sites and the question is eHarmony worth it, it doesn't matter how the site looks or what features it provides you with as long as it can actually help you to find a significant other.
According to eHarmony, more than 60,000 couples got married using their site. You can find many success stories on their website and see that eHarmony can help you to find a significant other. You can see multiple success stories below.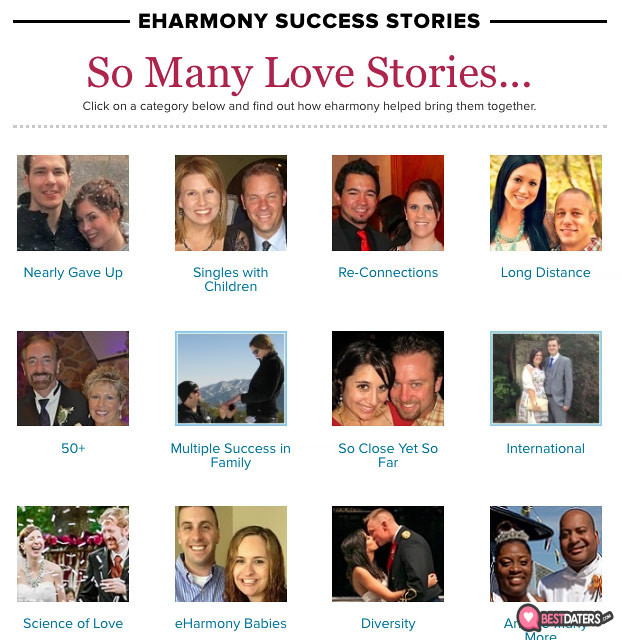 I actually have a friend that managed to create a long-term relationship using eHarmony. He has quite a peculiar personality and tried many different dating sites before this one, however, none of them worked.
I think that eHarmony was successful because it utilizes a compatibility matching system that allows connecting similar people. If you're also struggling to find people with a similar mindset, I'd strongly recommend giving it a try to eHarmony. What do you have to lose?
Here is The Best eHarmony Offer I Found:
Start for FREE
With This eHarmony Coupon
Use this eHarmony coupon & start your online dating journey for FREE. Set up an account without any cost and reach your online dating goals!
Expiration date : 29/09/2023
1,047 People Used
Only 82 Left
Conclusions
Therefore, eHarmony is an amazing dating site for those of you who are tired of dating around and are ready to settle down. eHarmony will help you find people with a similar mindset and values. To do so, they're using a compatibility matching system.
The site has more than 29 million members from the United States, the major part of these people are between the ages of 25 and 34, however, a high percentage of them also fall into different age groups.
eHarmony is very easy to use, it has a very minimalistic design, which makes it very pleasant to use. It can be used for free, however, you won't get to take advantage of the majority of features that eHarmony can provide you with, so the plan is a necessity.
eHarmony is really effective when it comes to finding serious relationships. More than 60,000 couples have found a significant other using this site and ended up getting married.
Leave your honest eHarmony review
Leave your genuine opinion & help thousands of people to choose the best dating site. All reviews, either positive or negative, are accepted as long as they're honest. We do not publish biased reviews or spam. So if you want to share your experience, opinion or give advice - the scene is yours!