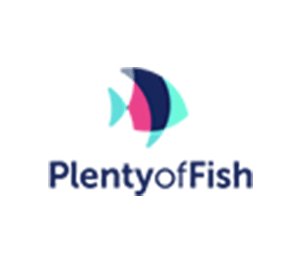 Dating has never before been as modern and streamlined as it is now - there are huge numbers of different dating sites all around, all offering vast arrays of different features for anyone trying to find love. User Plenty of Fish reviews will often proclaim that PoF is the platform to use, granted that it's one of the industry veterans.
Is there any merit to these claims? Well, in all actuality - yes, quite a bit. But I'm getting ahead of myself.
Today, we'll take a look at all of the different user PoF reviews found online, and try out the dating platform in question ourselves. We'll discuss both the pros and cons of the site in question, and figure out if it's a good fit for you.
| | |
| --- | --- |
| User Count | |
| Dominating Age Group | |
| Dominating Gender | |
| LGBT-Friendly | |
| Pricing | |
TL;DR: Plenty of Fish is a veteran online dating site that offers users a lot of different features. It has a huge number of users, good security systems, and also provides some free features, too. While the site itself looks a bit dated, this does not seem to be an issue for most.
Pros
Huge user base
Mobile app
Very simple to use
Personality-test based
Automatic and manual matchmaking
Cons
Dated site design
Not LGBT-friendly
Messaging is completely free
Plenty of Fish Reviews: PROS
As noted in the introductory part of the article, we'll cover both the positive and the more negative user Plenty of Fish reviews. This way, you should be able to get a pretty good idea about the platform in question, and be able to deduce whether it floats your boat or not.
As usual, though, we'll start off with the pros. Since one of the main questions that people who are looking for Plenty of Fish reviews tend to revolve around numbers, let's talk about that, first.
One of the Biggest Dating Platforms, Male-Dominated
If you're looking for a dating app or website - be it PoF, or else -, chances are that you want to either hook up with someone for a short-term relationship, or invest yourself in a more stable one. Both of those goals have one requirement, though - finding a good match.
Now, imagine you were using an app that doesn't even have 100,000 users, in total. The chances of you matching or bumping into someone who'd fit your specific criteria (assuming you fit their criteria, too) are close to non-existent. This is why a big userbase is important - the more people use the platform, the bigger are your chances.
This is actually one thing that user Plenty of Fish reviews just wouldn't shut up about. The site has one of the largest pools of users out of all of the top-ranking dating platforms in the world - as of writing this, it's nearing 100 million registered users, in total.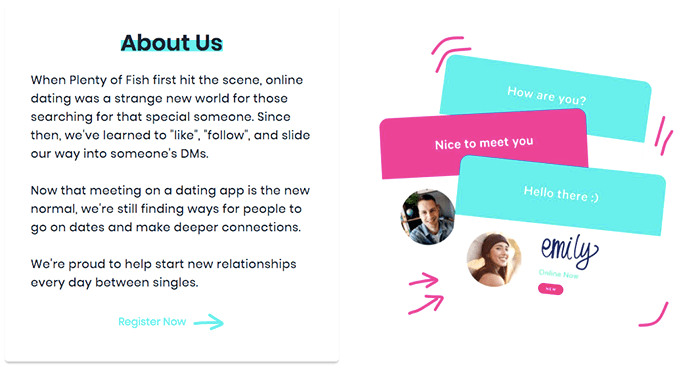 That's… Pretty insane! While PoF is a global dating site, the vast majority of that userbase is actually located in the US (although that's probably not all that surprising).
On a daily basis, you can expect around 2-2,5 million logins - that means you have that many options to hook up with. Well, hypothetically speaking - such a scenario would require everyone on the site to be bisexual, which is a tad bit unlikely.
On the topic of things that are unlikely, it's worth mentioning that many user Plenty of Fish reviews talk about the platform being male-dominated. Looking at the numbers, it's clear that the majority of the users are men between the ages of 25 and 35. While this may appear to be an issue at first (if your a guy trying to find a girlfriend, that is), it's actually the case with most dating sites out there.
Latest Plenty of Fish Coupon Found:
FREE Plan
On Plenty of Fish
Start dating on Plenty of Fish completely for free. Access all the most important features and functions & find your match in no time!
Expiration date : 29/09/2023
1,837 People Used
Only 197 Left
Dominant Age Group - Late Twenties and Early Thirties, No BS Policy
I've hinted at this in the above-presented section of the article, but the dominant age group of individuals using the platform and writing Plenty of Fish reviews is 25-35. Thing is, this isn't only true when it comes to men - there's the biggest number of women in this age group, too!
What does this tell you? Nothing too significant, really - the dating site has been around long enough for it to develop a very reliable and undeniable reputation, and thus attract both younger individuals, and some more mature ones.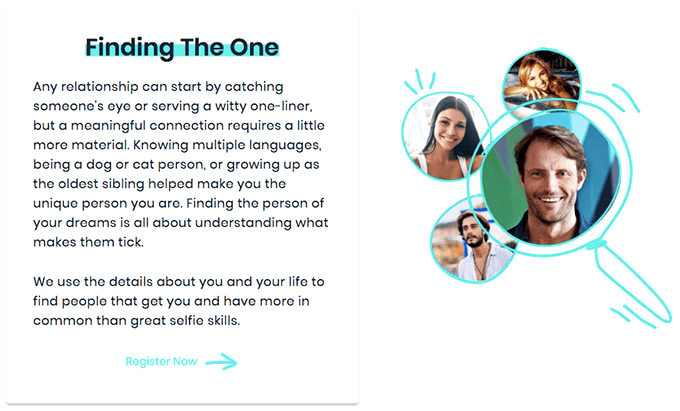 The thing that's actually important to note here is that PoF has a pretty straightforward "no BS" policy. What do I mean by that? Well, user Plenty of Fish reviews will tell you that you should make your intentions very clear upon registering to the app - either you're here to find a one night stand, or a long-term relationship.
To be frank, this is truly one of the best things on this app.
I mean, think about it - you don't need to waste any time matching with people, and then trying to learn whether they'd like to just hook up, or take things more seriously. There's basically this unwritten rule that you make your intentions known to the other side, and thus save both your and the other person's time.

Did you know?
Matchmaking and Matching Yourself - Both Allowed
Ya, you know what, I take my words back - THIS is actually probably the best feature of PoF that user Plenty of Fish reviews will tell you about.
Oftentimes, when you register on a brand new dating platform, you'll have one of two options - either you'll be thrown into an "ultra-super-duper-cool-and-accurate matchmaking system", or you'll have to go around people's profiles and find a good match yourself.
That… Kind of sucks. In both ways.
If you're left to rely solemnly on some sort of an algorithm-based matchmaking system, chances are that it's going to fail a whole load of times[1] until you manage to come across someone who'd actually fit your standards. That's simply because matchmaking systems act in accordance with numbers, and don't take into account the more subjective factors.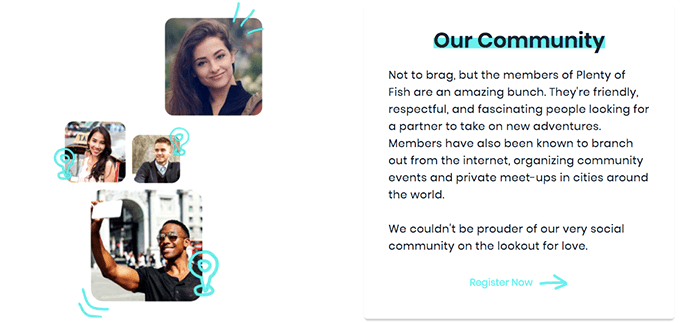 That being said, many user Plenty of Fish reviews will tell you that, if it's the other way around and you're left completely alone, without any system to match you with anyone, it can be complete hell, too. Having to manually sort through people's profiles requires a lot of time and energy - not something modern-day young adults tend to have.
Yet again, PoF reviews will gladly inform you that this is not an issue that you'd need to be worried about when it comes to the dating platform in question - Plenty of Fish offers both types of matching to its users. You can utilize the matchmaking system, or you can manually sort through various profiles yourself - the choice is up to you.
Simple to Use, Personality Test-Based
While user interface and ease of use might not be the first features that you think of when reading through Plenty of Fish reviews or trying to find yourself a great dating site, in general, they should definitely still be somewhere closer to the top.
It makes a lot of sense when you think about it yourself. Chances are that you're not going to be among the extremely lucky ones and find your perfect match on the first day of using PoF. This, in turn, means that you'll probably be using the site for an extended period of time.

Now, in a situation like that, you'd probably want the site to be as comfortable and simple to use as possible. Scrolling through people's profiles, customizing your own or even chatting with someone can be both enjoyment-filled processes, or they can suck. It often depends solemnly on how the platform is designed.
User Plenty of Fish reviews are actually very positive in this regard. It would seem that, upon registering and signing up, you'll get to do a quick personality test which will then determine your profile. The registration process is quick and simple, and the navigation of the site appears to be intuitive and straightforward.
Decent Mobile App
In this day and age, mobile apps practically rule the world. People do their shopping, bank transfers, authentications, reading, and everything else on their phones - it's a gigantic market that only keeps on growing.
Naturally, this translates to dating apps, too. A truly high-end online dating website is going to have an amazing, well-made and optimized app for its users to utilize. Truth be told, it would almost certainly be impossible to imagine a successful online dating-oriented company that wouldn't have an app for their services.
This is also the topic where PoF truly does shine as one of the oldest and most successful dating platforms on the internet.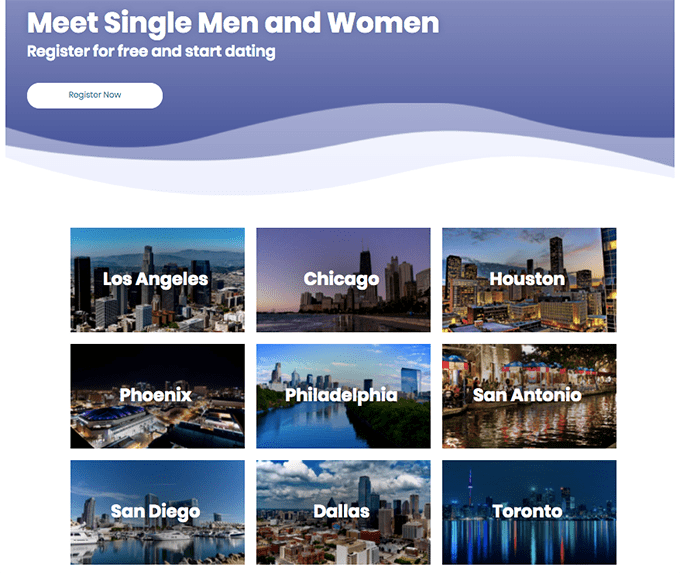 On the Google Play store, the PoF app has a score of 3,8 out of 5 - not too bad! Sure, it could be better, but these scores are quite subject to various nuances. This is (obviously) not the impressive part, though - there are almost 1,5 million user Plenty of Fish reviews on the Google Play store.
For comparison's sake, let me put it this way - another top-rated online dating platform called "Elite Singles" has 9000 user reviews on the same app shop.
In general, most of the PoF reviews on Google Play are praising the platform - users seem to enjoy the app, and an above-average score that's derived from 1,5 million reviews showcases that rather well.
Plenty of Fish Reviews: CONS
As much as PoF is a veteran of the online dating scene, no dating platform is free of criticism. Since we've discussed some of the most prominent positive user Plenty of Fish reviews, it's worth taking a turn and check out some of that criticism that's directed towards PoF, too.
To be completely honest and transparent, though, I have to say - Plenty of Fish doesn't really get a lot of crap from its users. There are a couple of key, specific things that bug people, but other than that, the platform is usually seen as a pretty decent online dating alternative, especially in the US. Still, let's talk about those aforementioned criticisms.
Not Very LGBT-Friendly
That's not really cool.
Today, LGBT-friendly online dating platforms are nothing to be shocked about. The opposite is actually true - you'd find both LGBT-designated apps, and those that are simply friendly and accomodating of these people all around the internet. I mean, come on - it's the 21st century.
That being said, it's not really something that's all that simple with Plenty of Fish. Users note that while the brand doesn't explicitly outright ban LGBT people from using it, it certainly isn't welcoming them with open arms, either.
How is this deduced? Well, for starters, you could take a look at the brand's marketing tactics. Tell me, when was the last time you saw a PoF ad that targeted LGBT people? Probably never - as far as I know, there isn't one. Multiple Plenty of Fish reviews point out that the site is directed mostly at opposite sex-interested individuals.
Furthermore, you won't be able to find transgender or non-binary people on the platform, either. The reason behind that is simple - these just aren't options for you to pick when creating your profile and assigning your gender.
Sure, it's the brand's choice - they decide who they want to market and cater to. That being said, reading through this topic-related Plenty of Fish reviews online, it's evident that a platform like this could truly help LGBT people find both love and hook-ups - this mostly references the reach and reputation that the platform has.
A Bit of an Outdated Interface
Remember when I said that the user interface of PoF is actually quite simple to use and intuitive? Well, I wasn't lying - that's true. For most people.
"Simple" or "intuitive" don't automatically equate to "modern", though. While this point might not necessarily be something that bugs the majority of users, it can, in fact, get on your nerves eventually.
The entirety of the PoF platform is quite outdated. This makes some features rather… Odd to access. It's difficult to actually put into words without going on and trying the site for yourself.
If you're an old-school type of a guy or gal (or else) yourself, then you might as well like the design of the platform. Looking from a broader perspective, though, it seems a bit odd that PoF hasn't yet decided to update their interfaces and overall platform design.
Some Fake / Ingenuine Users
Apart from the "not too friendly to LGBT people" issue, this might as well be the biggest concern that user Plenty of Fish reviews point out with the site in question.
Bots are something that is simply unavoidable - that's pretty obvious. No matter what it is that you do online, there are always going to be bots around that are there to make your experience as miserable as possible, and to get your money into the bot holder's pockets.
PoF doesn't appear to have a major issue with this topic, but users report that there are, indeed, quite a few bots lingering on the site. While the platform champions individual verifications, automatic log-outs when you're not using the site for an extended period of time and some decent successful matchmaking numbers, it still doesn't seem to be able to deal with the bot issue that well, though.
Having said that, while bots are somewhat of an issue with PoF, lying and ingenuine people are the real problem that the platform faces.

Now, is this something that Plenty of Fish can control? No, most certainly not - the absolute majority of people tend to inflate the numbers on their dating site profiles. It's only natural that you'd see a lot of this happening on a site as popular as PoF. Still, it's little-to-no condolence to legitimate individuals who are trying to find a partner for themselves.
My Own Experience With Plenty of Fish
Initially, when I first tried to register to the platform, my experience was… Less than ideal, let's put it that way. I just couldn't register on the damn site - I'd keep on getting some error messages which were simply non-sensical.
After I did finally manage to get in, my initial reaction also wasn't all that pleasant. The site itself truly does look, well… Archaic. If you're someone who's used to the modern, polished website design, PoF is going to be a real shocker - take my word for it.
In the beginning, the lackluster design of the platform threw me off a bit. I was discouraged to continue checking it out, especially when I saw the previews of other people's profiles - it's definitely a feature that needs a whole lot of work.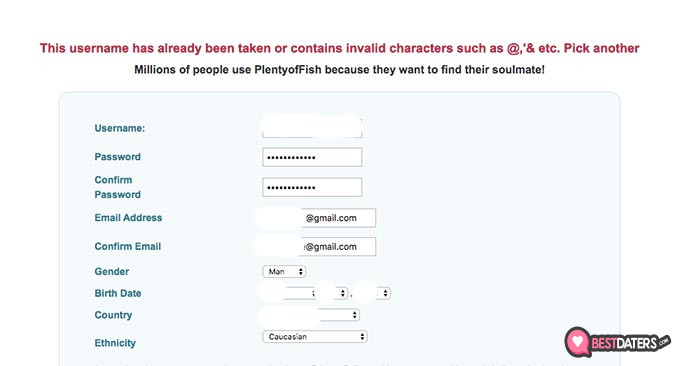 After I've spent some time on the platform, however, I must admit - the old-school design and quirky interfaces didn't bother me anymore. They definitely aren't a game-breaker, and for what it's worth, might even add to the overall experience with Plenty of Fish.
I tried using the Meet Me function that's rather infamous when reading through other user Plenty of Fish reviews, and while it can get boring quickly, it was a pretty cool way of finding people that I'd like to chat to.
The people on the site that I managed to communicate to were really nice. I've noticed two things - the platform managed to match me with all "the right people", and PoF seems to attract some more older women (say, in their early 40s). Now, this is completely based on my own experience - it doesn't represent the actual dominating age demographic of the site.
Right people-wise, it seemed to me as the women that I matched with were very knowledgeable concerning all of my interests. This isn't gender-exclusive, though - a friend of mine said that it's also noticeable when chatting with guys, too.

This isn't at all surprising, mind you - no one wants to use dating apps for a long time. It was simply more noticeable on PoF, and, yet again, these were strictly my own and my friend's experiences.
Overall, I had a pretty good time on PoF - if anything, I learned to appreciate the modern designs of other websites that we have today. The women that I matched with were very nice, too.
Price
Finally, all of that said and out of the way, we should still discuss the pricing options fo PoF. Many wannabe-users wonder - is Plenty of Fish free? To that I gladly say - yes, kind of.
Legitimate user Plenty of Fish reviews point out that the platform is almost entirely free to use, if you'd want it to be. What this means is that you'll be able to access all of the basic functions of the dating site - messaging, profile viewing, your own profile customization and so on - for free.
If you're still wondering about the question "is Plenty of Fish free?" when it comes to the paid plans, however, there are a few options available:
3 months - $12,90 per month
6 months - $8,50 per month
12 months - $6,78 per month
Quite frankly, it's a single "Premium" plan, and (as you see for yourself) the cost simply depends on the time period that you choose to purchase it for. The features that you receive with the free and Premium plans include:
Free Features
Fee-Based Features

Message other users
View other profiles
Customize your own, personal profile
etc.

You'll be able to see whether your messages were seen or deleted;
Timestamps when someone checked your profile out;
Username changes and searches;
A star icon and a highlight on your profile in searches;
etc.
As you can see for yourself, you are able to use the platform for free, but you'd receive many perks if you did decide to pay for a premium membership. It all depends on your own, personal goals and wishes.
Here is The Best Plenty of Fish Offer I Found:
FREE Plan
On Plenty of Fish
Start dating on Plenty of Fish completely for free. Access all the most important features and functions & find your match in no time!
Expiration date : 29/09/2023
1,837 People Used
Only 197 Left
Conclusions
So, to conclude our review - is PoF worth using?
According to the vast majority of user Plenty of Fish reviews - yes.
PoF is one of the biggest (if not - the biggest) dating sites in the world. It has a huge user database, is very simple to use, utilizes simple and straightforward registration procedures, and supplies you with both automated matchmaking and manual match selection options.
Sure, there are some certain quirks that the platform has - for example, Plenty of Fish might not be the best option for LGBT people. If, however, you're looking for a traditional kind of a match (be it for a hook-up or some legitimate, long-term relationships), it's worth giving PoF a shot.
Also, for anyone wondering "is Plenty of Fish free?", note that the basic features are free to use, but if you want to improve your chances of success, it's recommended to purchase one of the Premium plan options.
Scientific References
1. Andrew Stern, Eric Beech (ed): 'Online Dating Study Suggests It's No Better Than Meeting At A Bar'
Leave your honest Plenty of Fish review
Leave your genuine opinion & help thousands of people to choose the best dating site. All reviews, either positive or negative, are accepted as long as they're honest. We do not publish biased reviews or spam. So if you want to share your experience, opinion or give advice - the scene is yours!