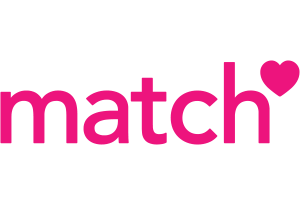 | | |
| --- | --- |
| Members | 4,000,000 from USA |
| Member Activity | 3,000,000 logins daily |
| Countries | Over 50 |
| Gender Proportion | 49% men VS 51% women |
| Age Distribution | The majority from 25 to 55+ |
| Pricing | From $7,99/month |
Nowadays, it can be difficult to meet people with similar values. That's why so many people choose online dating sites. Many of them have the ability to filter through people and find matches based on your expectations.
According to the University of Chicago researchers, people who meet online tend to have a higher marriage satisfaction rate. They make it through the first year of marriage in the majority of the cases, which is not something you could say about couples that meet offline.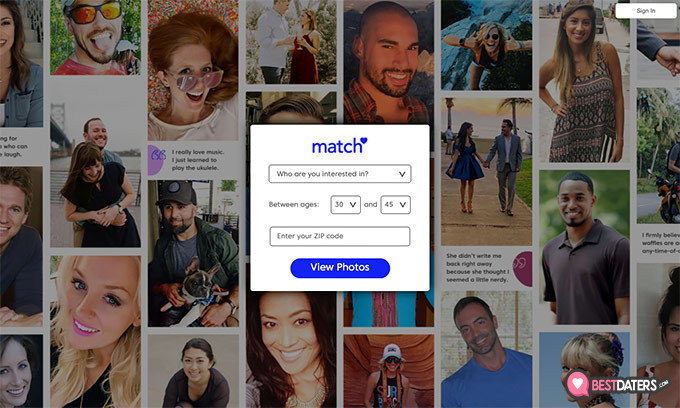 I know that many people are a bit skeptical about online dating, however, when there are such sites as Match.com that gathers people who are ready to settle down and start a family, it sounds so much more optimistic.
For this reason, in this article, I'll go through Match.com reviews, including the major pros and cons, pricing, and additional aspects that matter when choosing an online dating site.
Overview
Match is one of the oldest and the most experienced dating sites that was launched in 1995. Match.com has gained an amazing reputation throughout the years and is known as a dating site for people who are interested in serious relationships.
At the moment, more than 4 million people from the USA are using this dating site and more than 8 million paid members worldwide. It works by connecting people that have similar interests and are compatible.
Pros
More than 4 million people from the US
Clean design & great app
Great profile customization
Quick sign up
Cons
The majority of features are paid
Match.com Reviews: How It All Began
Match.com was founded in 1993 by Gary Kremen and Peng T. Ong. and launched back in 1995, more than 20 years ago. It's owned by IAC and is a part of Match Group that owns multiple online dating sites.
In 2012, Match.com bought OkCupid, which is another popular dating site. Two years later, in 2014, the company launched an updated mobile app that had a new feature called "Stream".
This "Stream" feature is using location and pictures to match people based on their preferences. Tinder, a very popular mobile dating app, also works using similar algorithms to help you find better matches.
Today, about 3 million members log in to Match.com every day. It's being used by more than 4 million people only in the USA and has over 8 million paid users worldwide. Based on Match.com reviews, it's one of the best dating sites for those who are looking for genuine relationships.
Without further ado, let's move further and discuss all the major pros and cons that Match.com reviews distinguish.
Match.com Reviews: PROS
I would like to begin with the positive aspects and answer the question "is Match.com worth it?".
Signing Up + Short Quiz
You may notice that some sites require 20-30 minutes of your time only when registering. While that might due to the fact that they're using that data to help you find better matches, it can also be pretty annoying.
When it comes to Match, it will take you about 5 minutes to register. The easiest way to do that is by using your email address. You will additionally need to provide your birthday, postal code, gender, and sexual orientation.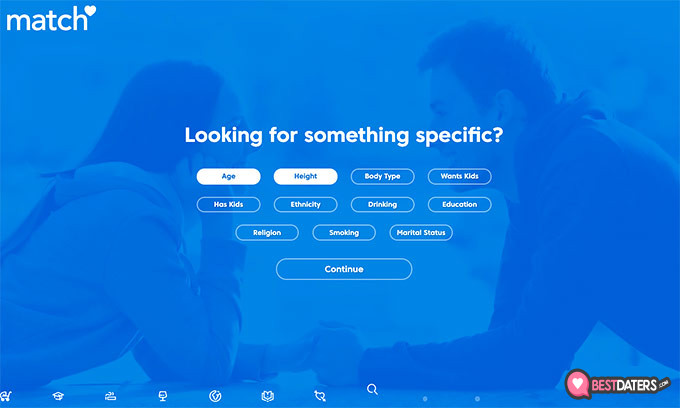 After filling in this information, you'll need to create a username and password. That's it, your profile is created. Now you need to provide general information about yourself, like a short quiz, that other members on Match will be able to see. That information includes your height, hobbies, relationship status (never married, divorced, etc.), body built, and what you're looking for in other people.
You should know that Match does not encourage third-party relationships. That being said, married people who are looking for a lover are not welcome.
The last thing that Match will ask you to do is write a short description about yourself and upload pictures. While one picture is enough to start making connections, I'd recommend you to upload more pictures in different environments.
That's not only because you will possibly get more matches but also due to the fact that the majority of fake profiles have only one picture. It means that you will show to everyone that your account is valid.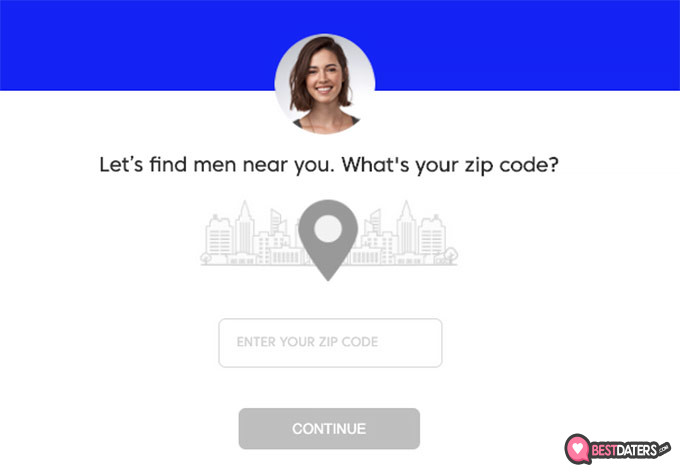 Talking about valid profiles, you'll need to verify your account using your phone number. That's a great way to decrease the number of fake profiles. Needless to say, Match.com reviews also appreciate that.
Latest Match Coupon Found:
Try Match.com for FREE
Unlock Great Features
Follow this Match.com promo code & try out the best-rated online dating platform for free. Get to know Match.com features & find love in no time!
Expiration date : 01/12/2023
1,573 People Used
Only 26 Left
Great Profile Customization
Profile customization is one of the most important aspects that matter when presenting yourself to other members. After all, you want to present yourself from your best side and get more matches.
You can provide a short summary that will reflect who you are and what you're looking for. It will be seen by all the members that come across your profile. What is more, you can choose from multiple questions and genuinely answer them. The answers might reveal how compatible you are with other people.
You'll have a long list of hobbies to pick from. They will have a major impact on your matches as each member has a list of personal qualities that they're looking for in another person.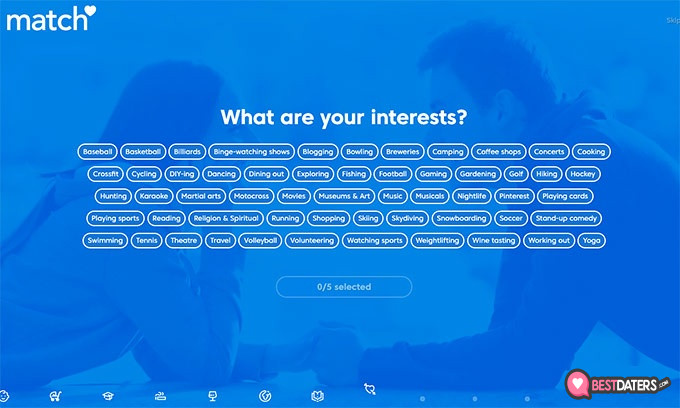 When it comes to the pictures, you can upload up to 26. That's more than the majority of dating sites allow you to provide and is one of the aspects that Match.com reviews distinguish as a major perk.
Based on all the information that you provide, you'll be able to see how compatible you are with other people.
Now, even though the major issue in many dating sites is fake profiles, it seems that Match can be trusted. You will rarely come across fake accounts, however, if it happens you can always press 'Report', and administrators will take care of it.

Did you know?
Easy to Make a Contact
Match reviews highlight how easy it is to make contact using their dating site. All you need to do is go to the 'Matches' section where you will be able to find all the profiles that are suggested to you based on your preferences.
If you like a person and think that it could go somewhere, simply press 'Like', however, if you think that it could never work, press 'Skip' - the next profile will appear instead of it.
Once you press 'Like', the person will appear in your 'Likes' list. He/she will be notified about it and you will be able to start a conversation. The issue here is that you can only send likes for free, however, if you want to start a conversation, you will need to get a plan. These conditions are common to the majority of dating sites.
Another aspect that I really like about Match is that even if there are suggested members, I can still search out of my preferences list by using the function called 'Discover'. You can use filters, such as age, gender, location, looks, personal traits, etc. to find people that you would be potentially interested in.
I have to mention the fact that the Match algorithm works really well. When I saw all the suggested matches, I was pretty surprised by the accuracy. I've instantly managed to find attractive people that seemed really interesting. As I was checking some Match.com reviews, I noticed that other people were also pleased with the suggested matches.
Amazing Features
Match has some really interesting features that make the whole experience on the site a lot more enjoyable. Let me introduce you to them:
Reverse Matches. Some people are looking for contrastive personalities. This feature allows you to find people that are complete opposites for what you would usually go for.
Boost. By using this feature, which is paid, you will be one of the top suggestions for other members.
Likes. In this list, you'll find all the people that you liked and even members who liked you.
Match Me. If you find someone really attractive and want that person to 'Like You', then by pressing 'Match Me' on that person's profile, you'll appear in his/her top suggestions.
MatchPhone. This feature is not what you might think of at first. It allows you to speak on the phone with other members, however, your phone number remains unknown to him/her.
Vibe Check. This feature allows you to video call with another member that you matched and had a conversation with. A person that you're calling to has to accept the video call to join you.
Date Check In. It's not a secret that meeting a person that you've never seen before can be really dangerous. That's why you can add three emergency contacts, a person's name, and the place where you're going. In case you're in trouble, Match will contact people from your emergency list.
These are the main and the most outstanding features that Match is offering. There's no need to ask "is Match.com worth it?", because it definitely is.
Very Active Dating Site
The reason why Match.com works so well is the fact that it's very active. The site has more than 4 million members from the USA and all of them have the same intention - to find a serious relationship.
What is more, each day about 3 million people log in to the site and are looking for new connections. That being said, this site is really active, there are probably very few fake accounts, which makes this platform really reliable.
If you're worried about not finding people in your age group, there's no need. A good percentage of people fall into different age groups. So no matter if you're 30 or 50 years old, you will be able to find multiple matches. The gender distribution is also quite equal, there are 49% men and 51% women.
Clean Design & Great App
When it comes to Match design, I find it really clean and straightforward. Even when using it for the very first time, there was no confusion at all. I'm talking about both the website and mobile app.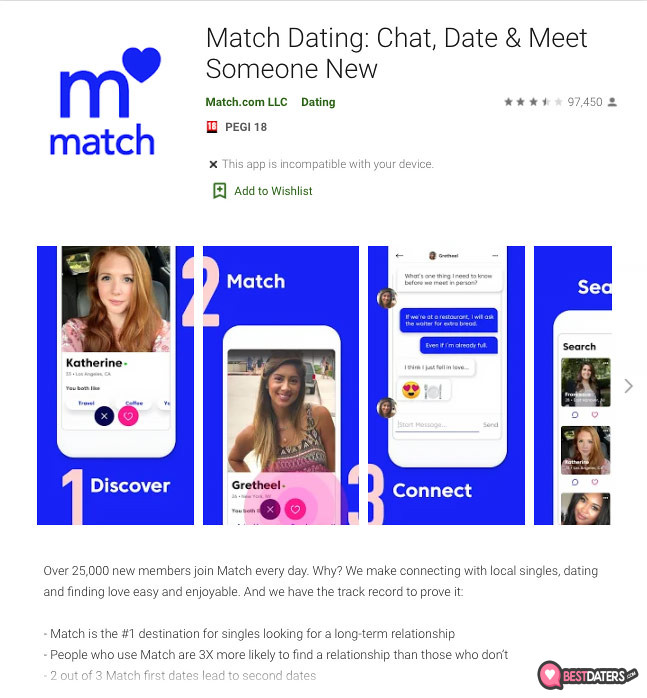 I like the Match mobile app because it provides you with all the same features that you get when using a website. It's super easy to make connections and contact with people and you even get notifications once you get a new match or a message. This way you don't miss any opportunities.
You can download the app on Google Play Store or Apple App Store. About 25,000 new members download this app every day. Match.com reviews really appreciate how easy it is to use the app, even if the experience is quite limited to free members.
Match.com Reviews: CONS
Now that we're done with all the positive aspects that not only me but also many Match.com reviews distinguish, it's time to move further and pay attention to the factors that are missing. I can tell you right away that there aren't many.
The Majority of Features are Paid
The only flaw that I noticed is the fact that the majority of the features on Match are paid. However, don't get me wrong, there are some things that you can do before choosing a plan.
You can create your profile, browse members, send likes, and participate in the matchmaking game as well as check out other people's profiles. However, if you want to start a conversation with your matches, you cannot do that without a plan.
That being said, if you want to get all the amazing features that I've introduced you previously in this Match.com review, you'll have to become a paid member. On the same note, let me provide you with Match.com Prices.
Match.com Prices and Additional Details
Match.com prices compared with other sites are average. The majority of Match.com reviews can approve that. However, it also depends on which plan you choose. Let me provide you with the prices of both Standard and Premium plans.
Standard plan prices:
The prices for the Premium plan:
The prices of the Premium plan are slightly higher, however, it's completely worth it. Let me provide you with the difference between free and paid users.
Free Features
Fee-Based Features

Create an account
Customize profile
Send likes
Matchmaking game
View profiles
Search for members
SingleOut matches

Send messages
See who viewed your profile
Messenger
Match Phone
Vibe Check
Spot on in daily matches
Incognito browsing
Email 'read' notification
Profile review from an expert
1-on-1 with a dating coach
Monthly boost
When it comes to the Match mobile app prices, they're higher than those of the web version. Since they're changing all the time, I'd suggest downloading it and checking the current pricing options.
Success Stories
Even though it's important to pay attention to the usability and the special features, what matters the most is real-life Match reviews and success stories that show whether or not Match can help you to find a significant other.
On the Match.com website, you'll be able to find multiple success stories. You can read each of them and find out how people managed to find a significant other on this platform. Many couples ended up getting married. If you're looking for the same thing, this might be your chance.
I don't have many friends that would be into dating sites, however, when it comes to Match.com, my very good friend managed to find a real connection using it. She's been seeing her boyfriend for a few years now and it seems to be going somewhere.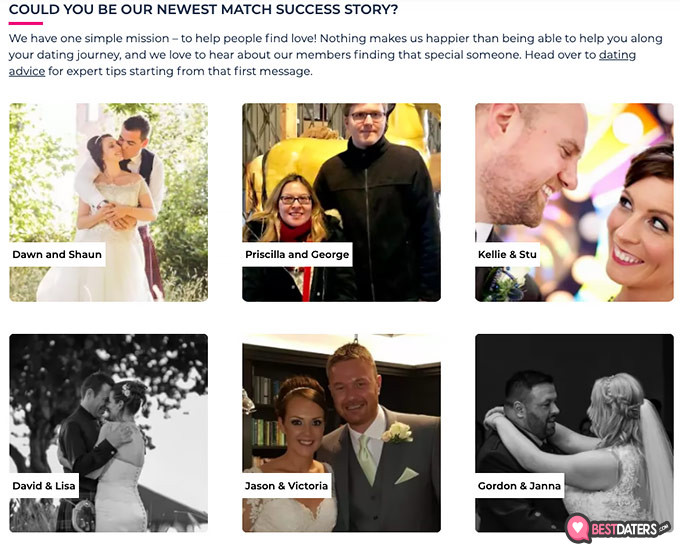 I remember that day when she was preparing to go on a date. She was really nervous because she's actually very picky and has this peculiar personality that makes it difficult to connect with people. However, this time it worked.
That's my story, however, there are also multiple Match.com reviews that reveal how successful their experience was using this dating site. For this reason, I would definitely recommend Match.com if you're ready to settle down.
Here is The Best Match Offer I Found:
Try Match.com for FREE
Unlock Great Features
Follow this Match.com promo code & try out the best-rated online dating platform for free. Get to know Match.com features & find love in no time!
Expiration date : 01/12/2023
1,573 People Used
Only 26 Left
Conclusion
Therefore, is Match worth it? Of course, it is! This dating site is very active and helps to connect people of various backgrounds. Match is created for those who are looking for serious relationships, so if you're looking for one-night stands, it won't be suitable for you.
Match has more than 4 million members from the US and about 8 million paid users worldwide. About 3 million people log in to this site daily and want to find people with a similar mindset.
This dating site offers multiple features that will make your experience really pleasant. They even have a video call feature if you're too shy to meet someone you've never seen in person.
Thus, you should definitely check out Match.com, I strongly believe that it can help you to find a significant other!
Leave your honest Match review
Leave your genuine opinion & help thousands of people to choose the best dating site. All reviews, either positive or negative, are accepted as long as they're honest. We do not publish biased reviews or spam. So if you want to share your experience, opinion or give advice - the scene is yours!